qUIck_LW2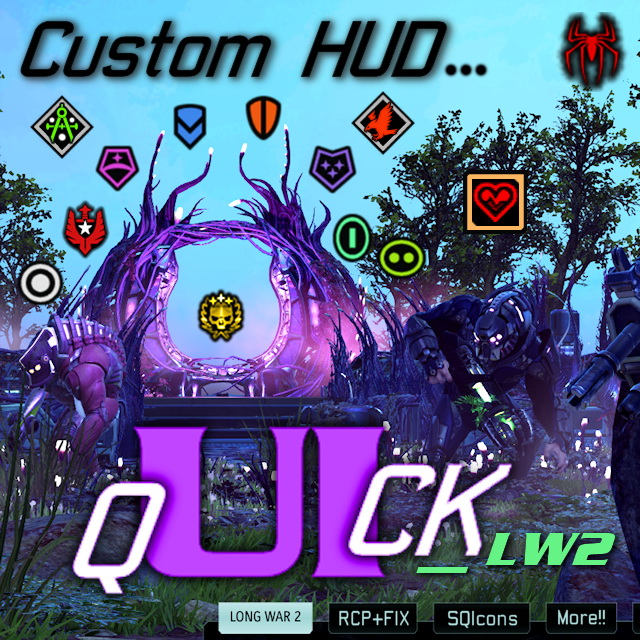 Author:
Zyxpsilon
Last revision:
15 May at 01:22 2017 UTC
Description:
MOD-ID TAG = #855089938
DESCRIPTION = HUD customization
SUMMARY = Various UI components are enhanced to provide faster on-screen detection of gameplay features or contexts.
Get ready for a wild ride into a revamped interface where theme(s) of carefully planned colors/designs can help determine what is in focus or give qUIck (;) hints about which symbols mean this or that or whatever else.
For those familiar with my library of XCom2 Mods, you'll simply switch to a similar concept yet adapted to specific LW2 conditions & elements. (( qUick_RCP & qUick_FIX are no longer needed while you play LW2 – so de-activate them, btw! ))
To appreciate all it has to offer, everyone must use the SwappImg ModTool (linked in the "Required Items" Steam section) — and, install my LAByrinth mod too. The first hooks necessary custom images, the other supplies you with multiple other reference Tags & Strings that wouldn't appear otherwise – highly recommended.
INSTALLATION
Now that "Amineri" from Pavonis has officially confirmed any of my custom strings should work just fine as is, i no longer have to ask subscribers to perform (honestly, it was quite silly) Copy/Paste swaps from local folders to their LW2 structure.
As such, these localization files were thoroughly optimized and would directly update whatever is necessary. But a small warning.. this mod requires to be "Loaded/Subscribed/(re)Installed" after each Long War updating process. I'll honestly try keeping up with their cyclic nature and you will probably witness some Steam "de-activation" of this mod in the future — which will mean i'm hard at work to adapt qUIck_LW2 as it should.
TO DO
1) Continue developping many other components for qUIck_LW2, update LAByrinth (with new LW2 assets) & design fully dynamic + GFX-Flash/Compatible assets for GeoscApps.
UPDATE NOTES
(14/05PM) ; v1.3 compatibility pass,
— Adding a variety of enhanced "MissionIcons" for the Events flow stack which makes their detection much easier!
(26/02PM) ; v1.2
— Clearer re-Coloring of Geoscape Recruiting Notifications,
— Psi-Operative Class name is Lavender, etc!
** Comments, Kudos?? Please join the discussion threads below.
** BUGs to report?? Post in the provided area, only!
As a bonus, you also have 99 custom SquadIcons to play with, have fun!
— Zyxpsilon