Hero Pool v3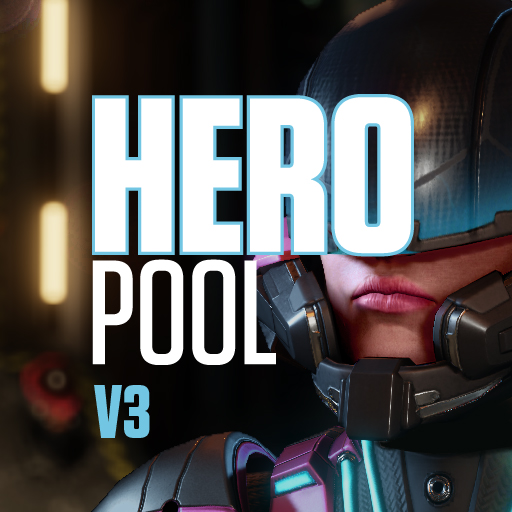 Description:
A character pool of 150 soldiers based on characters from various game and film franchises!
Character pool only. No mods were used to create these characters
. It is safe to disable the mod after importing the characters to your active pool.
Requires Anarchy's Children and Alien Hunters DLC. Resistance Warrior Pack DLC is recommended but not required – some characters will be missing facepaint without it.
This version includes all characters from Hero Pool v2 and Hero Pool v1.
If you have the War of the Chosen, check out Hero Pool v4 for future updates.
How to Import a Pool:

At the opening screen click CHARACTER POOL
Click the IMPORT CHARACTER button at the top
From the list click Hero Pool v3
From here you can either click IMPORT ENTIRE POOL at the very top, or click on a specific character in the list to import it
Once the characters you want are in the Active Pool, go to the bottom of the screen and make sure that Character Pool Usage is set to Character Pool Only: this will force the game to use all the characters from the pool before it starts randomly generating them.

The characters will now begin to appear in your game. At this point the mod can be safely disabled/removed – the characters you imported will remain unaffected in your Active Pool.
Updates:

v3.9 (7/25/2017)
– some minor changes to a few characters
– added 4 new characters

Black Mamba (Kill Bill)
Mr. Satan (Dragon Ball)
RoboCop
White Goodman (Dodgeball)

v3.8 (6/12/2017)
– some minor changes to a few characters
– removed 4 characters (Jacqui Briggs, Morpheus, Neo, Trinity)
– added 9 new characters

Master Raven (Tekken)
Meryl (Metal Gear)
Mr. Freeze (DC Comics)
Nina Williams (Tekken)
Raven (Tekken)
Robin (DC Comics)
Simon Phoenix (Demolition Man)
Snake Plissken (Escape from New York)
Walker, Texas Ranger

v3.7 (5/25/2017)
– some minor changes to a few characters
– added 6 new characters:

Captain Cold (DC Comics)
Green Arrow (DC Comics)
John Wick
Machete
Major Motoko Kusanagi (Ghost in the Shell)
Riddick
This pool includes:
BORDERLANDS
Athena
Axton
Fiona
Krieg
Lilith
Maya
Mordecai
Salvador
Wilhelm
DC COMICS
Bane
Black Mask
Captain Cold
Green Arrow
Harley Quinn
Joker
Mr. Freeze
Robin
G.I. JOE
Baroness
Duke
Lady Jaye
Scarlett
Zarana
Zartan
MARVEL
Black Widow
Jean Grey
Logan/Wolverine
Storm
METAL GEAR
Big Boss/Old Snake/Venom Snake/Solid Snake
Hal 'Otacon' Emmerich
Meryl
Psycho Mantis
Quiet
Raiden
Revolver Ocelot
MORTAL KOMBAT
Cassie Cage
Erron Black
Frost
Johnny Cage
Kabal
Kitana
Mileena
Skarlet
Smoke
Sonya Blade
Stryker
NINTENDO
OVERWATCH
Ana
D.VA
Junkrat
Lúcio
McCree
Mei
Mercy
Soldier: 76
Sombra
Widowmaker
PREDATOR
Billy
Blain
Dillon
Dutch
Hawkins
Mac
Poncho
RESIDENT EVIL
Chris Redfield
Claire Redfield
Jill Valentine
Leon Kennedy
STARCRAFT
Kerrigan / Queen of Blades
Nova
Tychus
TEKKEN
Master Raven
Nina Williams
Raven
XCOM: ENEMY UNKNOWN
'General' Peter Van Doorn
XCOM: ENEMY UNKNOWN (SLINGSHOT PACK)
XCOM: ENEMY WITHIN
MISCELLANEOUS
Abraham Lincoln
Barry White
Billy, Jason, Kimberly, Tommy, Trini, and Zack (Power Rangers)
Black Mamba (Kill Bill)
Bob Ross
Chell (Portal)
The Dude (The Big Lebowski)
Eli (The Book of Eli)
Furiosa (Mad Max)
Gene Simmons (KISS)
Geralt of Rivia (The Witcher)
Gordon Freeman (Half-Life)
Guile (Street Fighter)
Hexadecimal (ReBoot)
John Wick
Judge Dredd
Juliet Starling (Lollipop Chainsaw)
Kimbo Slice (UFC)
Korben Dallas (Fifth Element)
Kruger (Elysium)
Lara Croft (Tomb Raider)
Machete
'Mad' Max Rockatansky (Mad Max)
Major Motoko Kusanagi (Ghost in the Shell)
Mandora the Evil Chaser (Thundercats)
Master Roshi (Dragonball)
Mr. Satan (Dragon Ball)
Mr. T – B. A. Baracus (The A-Team)
Orchid (Killer Instinct)
Riddick
RoboCop
Shaggy 2 Dope (Insane Clown Posse)
Simon Phoenix (Demolition Man)
Snake Plissken (Escape from New York)
Team Fortress 2 – Demoman, Engineer, Heavy, Medic, Pyro, Scout, Sniper, Soldier, Spy
Thunder (Killer Instinct)
Tron
Walker, Texas Ranger
White Goodman (Dodgeball)
Whoopi Goldberg
William Wallace (Braveheart)
Willy Wonka (Charlie & the Chocolate Factory)
*All trademarks and registered trademarks are the property of their respective owners