[RvB] – Dexter Grif VoicePack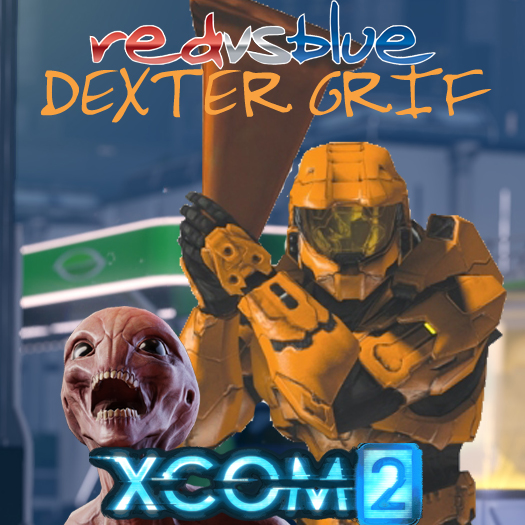 Description:
[RvB] Dexter Grif VoicePack
—–
"I would just like to let everyone know, that I suck!"
Ladies and gentlemen of XCOM, I give you one of the welcoming additions from Red vs Blue: Dexter Grif, the laziest soldier of the Red team. For those unaware (if you are, check it out, it's a good show), two idiotic teams (known as Red and Blue) were stationed in a lonely place called Blood Gulch to just, well, talk and stuff and keep an eye out against the other team in case they decide to shoot at each other. But as the series progressed, it became more than just that…
After the recent success of Church, I think it would be high time to make ANOTHER voicepack for a member of the show… Thus we got Grif.
This mod features the laziest Grif in his slacky glory spanning from ALL of RvB episodes and extra episodes, especially the PSA ones, with 238 lines. Keep in mind though, some voice lines are repeated and may be a bit soft (or too loud). Other than that, Grif is ready to kick some alien butt — at least from the sidelines…
Oh, forgot to mention, this mod is NSFW due to foul language, but you do play it at your homes and not at work… I hope?
Thanks for downloading and PLEASE give me feedback. Word of warning though: due to my busy schedule, I may be somewhat inactive in updating this mod. I will do it, but I can't do this often…
RELEASE NOTES
———————-
V1.00
Initial Release
CREDITS
—————-
+ Firaxis and 2K for this wonderful game as well as giving the community this SDK to further expand XCOM's capabilities
+ RoosterTeeth for RvB and Grif himself. XCOM has yet another slacker in the team to contribute. Remember, if RNG doesn't work in your favor or when your plans are screwed up, always kill Grif for emergencies!
+ The XCOM 2 subreddit forums, especially to The_Scout1255 and E3245, for teaching me how to make this mod and make Grif come to life and help taking the memory load off the mod for easier use.
+zuff for his XCOM Voice Pack Tutorial on Youtube. Very helpful and explanatory. Helped me get a good start in the XCOM 2 SDK and helped me get my feet wet in this voicepack.
+ You, Commander. For your feedback and taking the opportunity to recruit this orange, lazy, loud-mouth soldier. Your efforts will continue to bolster the Resistance across the globe. Keep up the great work, and good luck Commander. o7
DISCLAIMER
——————-
THIS PRODUCT IS NOT ENDORSED BY NOR AFFILIATED WITH FIRAXIS GAMES, ROOSTER TEETH, ETC. THIS PRODUCT CONTAINS CONTENT COPYRIGHTED BY FIRAXIS GAMES (XCOM 2) / ROOSTER TEETH (CHARACTER DEXTER GRIF, ASSOCIATED AUDIO RECORDINGS AND VARIOUS MEDIA) THAT MAY NOT BE REUSED WITHOUT OWNER'S EXPRESSED PERMISSION
Like my stuff? Check out my other mods!
RECRUIT LEONARD CHURCH FROM RED VS BLUE! https://steamcommunity.com/sharedfiles/filedetails/?id=787812672
RECRUIT RUBY ROSE FROM RWBY!
https://steamcommunity.com/sharedfiles/filedetails/?id=796315098
FOLLOW MY MASTER MOD DISCUSSION TO STAY TUNED ON MY PROGRESS!
https://steamcommunity.com/workshop/filedetails/?id=810932887