WA'sCustomGearWOTC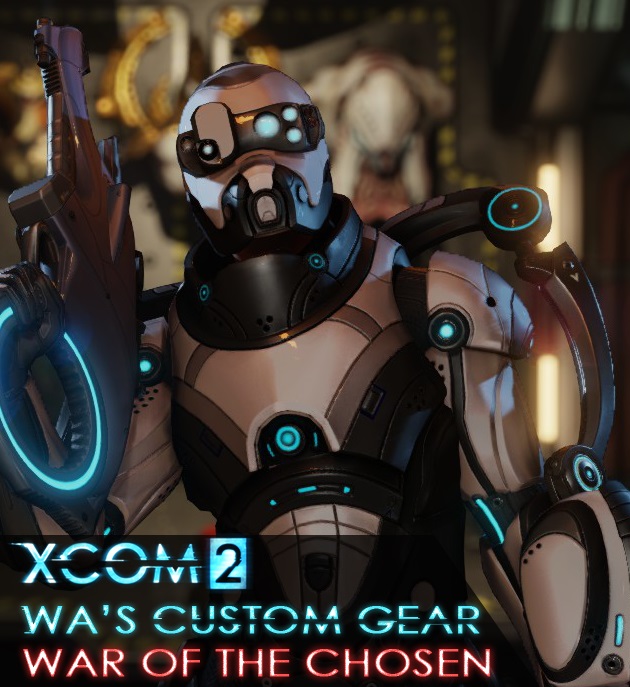 Description:
This is a custom cosmetics pack aimed mostly at the endgame gear.
I found the visual options that the game shipped with quite lacking in quantity especially near the end, I started this project in an attempt to remedy the situation.
I aim for quality over quantity, so expect slow going.
3 November 2018 – Added: Old World Gasmask, Active Earprotection and a Reinforced Conventional Helmet
Known issue: After the tactical legacy pack dropped my helmet variants don't change their materials correctly if you go through the variants in order.
Workaround: Hover over a prop with a different 3D model, then move the cursor to the side from the list and then select the piece you want by mousing over it again from the side.
Currently the pack contains:
NEW – Old world gasmask
NEW – Reinforced helmet
NEW – "Active earmuffs"
– "Proto" Warsuit torso, currently only male and only shiny! Matte versions incoming, female versions may take a while.
Based on an unused design in the XCOM 2 art book!
– Vanquisher helmet with and without decals and matte versions without decals and with decals.
– "Apex predator" Cosmetic T3 medium armor torso with two versions, default glossy (XCOM 2 vanilla) and matte (Anarchy's children style).
– Sparrow recon helmet with decals and without, both glossy and matte versions
– Sparrow combat helmet with decals and without, both glossy and matte versions, this is a glass visor version from the recon helmet.
Currently almost all of the stuff included is for both male and female characters.
Lastly if my cosmetics aren't visible in game, try unsubbing & then resub, it would seem that the workshop won't properly update this mod for everyone.