Missing Packages Fix + Resource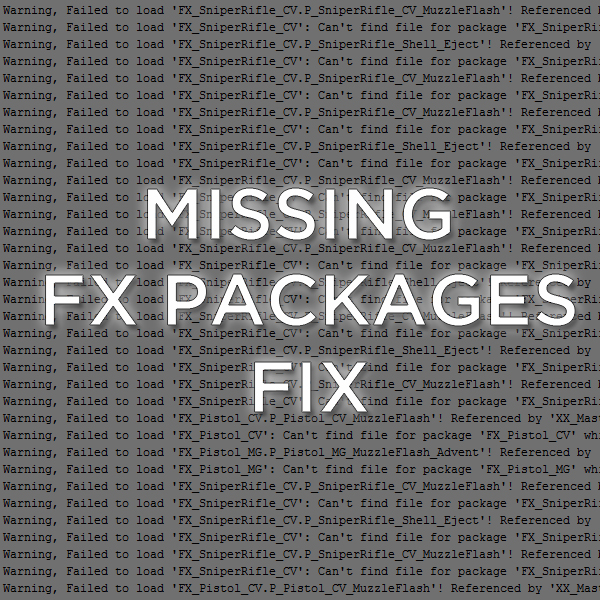 Author:
∑3245
Last revision:
26 Sep at 06:53 2017 UTC
Description:
For some reason unbeknowest to us, some packages (FX_, dev packages, clearcoat) are not loaded in WotC, or rather, do not exist at all, breaking a lot of mods that use Particle Systems. This is intentional to reduce the size of WotC.
This will be required for any mod that uses Particle Systems, which is any mod that adds new aliens or ADVENT like the Advent Pathfinder mod or weapons as such as the weapon megapack or Mercenary Plasma Weapons.
This mod also contains fixes for the following mods:
Highbob's Not So Super Soldier mod (fixes the blackface Central and Tygan heads).
Mercy, Tracer, and Genji Squadmate mods (missing necessary MorphTargetSet).
All weapon mods.
Mods that use ClearCoat_CP.
If you have any other packages that you want loaded, then post in the discussion section.
http://steamcommunity.com/workshop/filedetails/discussion/1124064427/1474221865180527428/
LOG
Release Ver: 2.10:
-Added More Packages:
FX_MEC_WP_Railgun
FX_Reaper_Rifle_CV, _MG, _BM
FX_SMG_CV, _MG, _BM
FX_TemplarPistol_CV, _MG, _BM
FX_Beam_Sword
FX_MEC_WP_Chaingun
FX_Beam_SniperRifle_XCom
FX_AdvMec_Gun
FX_VH_Skyranger
Release Ver: 2.03:
-Added More FX Packages:
-FX_Avatar
-FX_GrenadeLauncher_CV
-FX_Impacts_Human/Advent/Alien
Release Ver: 2.02:
-Added More FX Packages.
Release Ver: 2.01:
-Added All Templar FXs
Release Ver: 2.00:
-Figured out the ini file that's causing the packages to not load, and adjusted it accordingly.
Release Ver: 1.100:
-Added several new packages.
Release Ver: 1.000:
-Initial release.