[WotC] Resistance Firearms – Main Module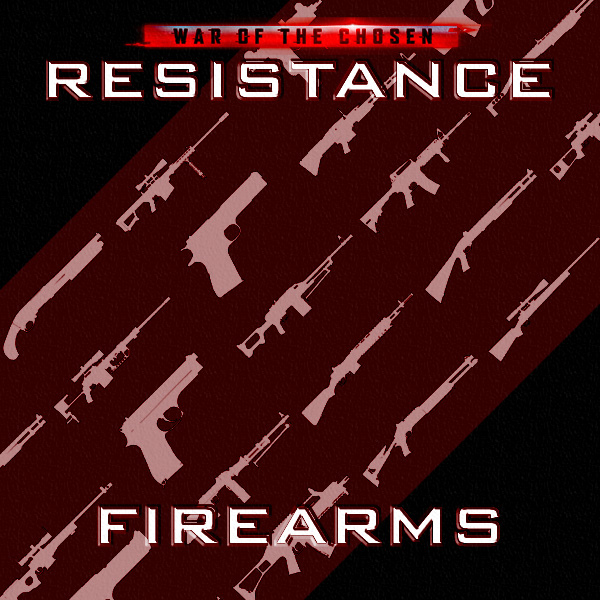 Description:
IMPORTANT: This is the entire data module to the Resistance Firearms mod. The assets for the weapons can be found here. Subscribing to this is very important, since it contains all of the assets.
War of the Chosen version!
This mod is pretty much a weapon module (meaning that it's simply adds the weapons and nothing more), so you can run this with other mods like A Better Advent, and so forth.
If you have issues with this mod or spotted a bug, please report it in the Bug Report Thread. If you want to provide feedback, whether its good or bad, then post in the General Feedback Thread.
If you are thinking of downvoting this mod, please provide feedback first, so I know what I should improve on/did wrong.
FEATURES
64 weapons! 29 returing weapons, 5 previously released weapons that now have new models, and 32 new weapons (Some of them are a surprise!).
Redone from scratch! (Corrected textures, better vertex normals and smoothing)
Weapon animations! (Check the pistols, MWR LMGs and M14 rifle!)
More modular weapons!
Remastered weapon firing sounds!
Modular templates system, which you can edit all aspects of any weapon.
COMPATIBILITY
KNOWN ISSUES
CREDITS
Coding:
Krakah for creating the inital framework for this mod.
Musashi and robojumper for helping me troubleshoot.
E3245 for the additional codework and testing.
Spirit Guide:
Beaglerush for testing this and advising me throughout the development of this mod. Watch his streams here!

[www.twitch.tv]

.
Translation:
tr0ll for the Russian translation.
PERMISSIONS
You are free to utilize the assets from this mod for your own gameplay/balance mods. If you do decide to use the assets, please credit the above authors/companies.
However, You are NOT allowed to do the following:
Upload this elsewhere without my permission.
Steal and/or take credit (Code/Assets/Misc).
Make any sort of profit off of this.
Port to another game (Only applies to Millenia's weapons, the others are fine).
LOG
Release Version 2.012:
Updated the BlacklistWeaponFromGame feature to completely remove the weapon from the game. Now the weapon will not appear or load at all and no other mod can access it anymore!
Release Version 2.010:
Added BlacklistWeaponFromGame feature in XCom_DownloadableContentInfo_RF_WotC.ini to disable weapons from ever showing up again! (However, Grimy's Loot mod will still pull this weapon and it will be not upgradable)
Fixed a typo in XCom_DownloadableContentInfo_RF_WotC.ini.
Release Version 2.000 (1 Year Anniversary Update):
Added the R3KT, UMP45, M21 'All Ghillie Up' variant, and the VSS Vintorez!
By popular request, I un-hardcoded the function that adds the weapons to the game. Now you can choose what weapons you want in your campaign in XCom_DownloadableContentInfo_RF_WotC.ini!
Added several new attachments for several weapons: M82A1, R700, M40A3, and others!
By popular request, made the ACOG scope the default sight model for all sniper rifles and Sniper Scopes the Aim Upgrade model!
By popular request, re-ordered the weapon tiers to be below the vanilla weapons, making vanilla weapons the default weapon to equip (and squashing one of the big bugs).
Fixed mis-matched template names for Grimy's Loot mod.
Refactored *.u files.
Other minor fixes.