Ability Tweaks WOTC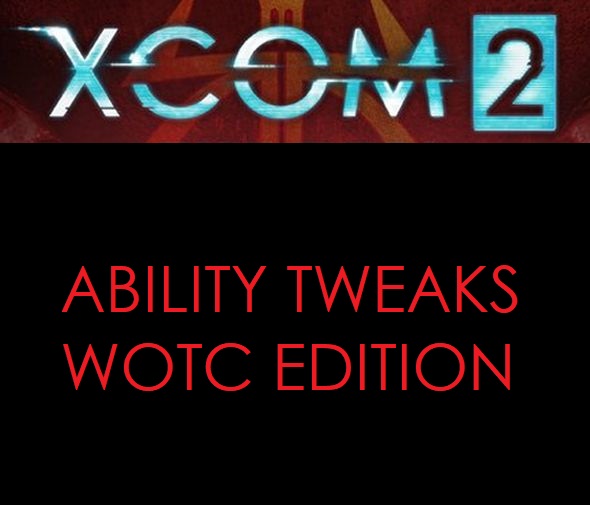 Description:
This is my own personal repository for miscellaneous ability and item tweaks for the game. These are not bugfixes (ok i lied maybe some of them are, but some arent).
I busted the text cap from descriptions, you'll have to open the README.TXT file in this mod to read the changes.
Updated 31-10-2017, cleaned up.
C:Program Files (x86)Steamsteamappsworkshopcontent2685001133528728Readme.txt
-= NEXT UP CHANGE LIST =-
– Full Throttle triggers from the unit having it dying, it's hilarious but needs fixing
-= TO DO EVENTUALLY =-
– None.
-= IMPOSSIBLE DUE TO TECHNICAL LIMITATIONS OF XCOM =-
– Poison damage bypasses shields.
-= SPECIAL CHANGES =-
– Turrets now have Bulwark (Lost Towers, ADVENT and XCOM all the same).
You'll need to change the parameter below if you want to remove the bonus armor. This also applies to the SPARK, so you might want to just give the SPARK one free ARMOR point.
DLC_3XComGameData_SoldierSkills.INI
[DLC_3.X2Ability_SparkAbilitySet]
BULWARK_ARMOR=0
DLC_3XComGameData_CharacterStats.INI
[SparkSoldier X2SparkCharacterTemplate_DLC_3]
CharacterBaseStats[eStat_ArmorMitigation]=1
You don't have to change anything, this is optional.
-= NOTES =-
More to come that's for sure. Mod is subject to incremental change so do not subscribe and forget if you do not trust me or align with my philosophy.