WC_qUIck_RCP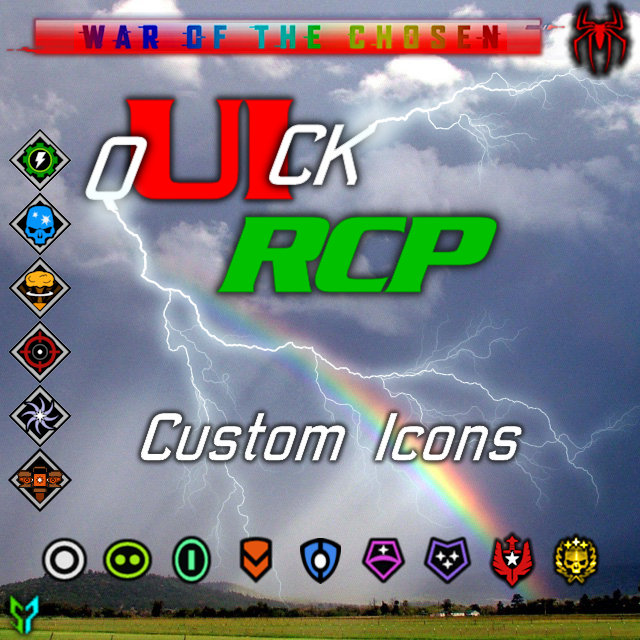 Author:
Zyxpsilon
Last revision:
15 Sep at 05:37 2017 UTC
Description:
MOD-ID TAG = #1133862047
DESCRIPTION = Colorizing Classes, Ranks and if needed, other related components
SUMMARY = This mod belongs to a modular set of HUD enhancements which offer you various types of UI assets.
INSTALLATION
This will show up in your Launcher of choice but must be used ONLY within War of The Chosen gameplay… then, Click the box & off you go. As a result, it is certainly important to de-activate the similar Xcom2 version (with mini yellow triangle), if you already had it installed.
** DEVELOPMENT NOTE = This mod is dependant on another "UI Tool"; SwappImg! — Download it by clicking its name in the "Required Items" section to the right.
WC_qUIck_FIX(es)
I had no choice but to integrate it within this one. Let's just say WotC somehow broke the hybrid "Web/Helper" function that allowed modular distribution of such gameplay assets.
IMPORTANT NOTE; You must "unsubscribe" to the previous version.
Sooooooo.. as proper reference here's official details;
————————————-
SUMMARY = Swapping a few default images with custom versions.
Specifically adjusted to authentic War of The Chosen features & assets, what follows are custom UI components intended to FIX various situations very rapidly & simultaneously in multiple gameplay conditions found both into Strategy or Tactical layers.
There are just a few resources at this point. If absolutely necessary, many more could be added later though.
1) A UFO has crashed or just landed! Seriously, why would an ADVENT Logo be used as the Mission symbol? 😉
2) John Bradford is a very special Ranger during the Vipers Nest assault… now, his own unique Class-Icon makes it obvious.
3) PCS were colored as INV_entory items. Their Perky tags deserve that distinction as well. While i had those under my creative thumb.. i've also FIX'ed the default "Dodge" Psi-Twirl with an image related to that specific context.
4) Three factions (Reaper-Skirmisher-Templar) now have their own unique Flags. Since i'm distributing an extensive package of many more buttonized versions (within the qUIck_FLG modular Mods).. it didn't make much sense to overload the other process with them.
The UC script(s) that can produce these kind of results is fairly straight forward for anyone knowledgeable enough, i gather. The method is quite simple, the Library Paths and Texture2d files must be valid. And — so — on.
————————————-
UPDATES NOTES:
#1) Fusion of RCP & FIX.
————————————-
I'm currently working on a few other mods (and updates) simultaneously. Unless stated otherwise, these are also (or directly) compatible with WotC.
#1) Five Flag Packages which include 200+ Cities have all been released — check 'hem out from this qUIck_FLG link!
#2) WC_GeoscApps… a semi-complex Strategy Layer feature that might need some coding partnership with a skilled UC & Flash/GFX collaborator to add XC-Logos (instead of defeated Chosen symbols) aside from Region banners — eventually!
#3) LAByrinth… interactive Tech-Tree & gameplay facts deployed straight off in the Archives as menu option. Still lacking WotC details. Working on it!
#4) Some more projects are in early concept phase(s) and most are at different stages of development; namely, Photo_Re_Booth & InformApps & TacticApps, etc.
Feel free to ask questions or comment about anything below and i'll try keeping up!
Enjoy.
— Zyxpsilon.