[WoTC] Pathfinder Hunter Standalone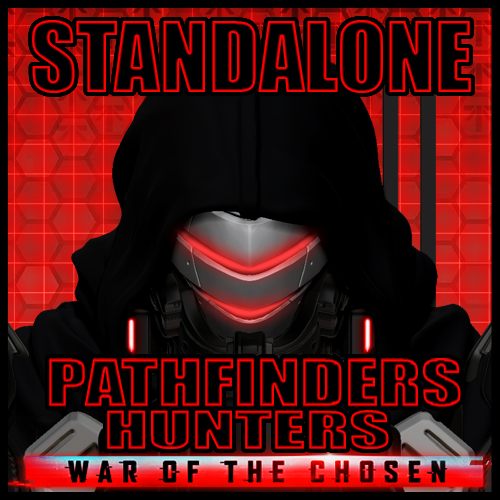 Author:
Claus
Last revision:
17 Dec at 22:39 2017 UTC
Description:
This mod adds a new Advent enemy, the Pathfinder Hunters. These Advent use hunter rifles which mark targets they hit with a debuff.
WHAT IS IN THIS MOD:
New Advent Enemy.
4 Variants, normal, advanced, elite and exalted
INFO:
Advent Pathfinders Hunter
Advent Pathfinders are highly mobile Advent units, they will attempt to attack your soldiers from far away with their rifles to debuff them, making your soldiers more susceptible to flanks.
Advent Pathfinder Hunter Variants
Normal Pathfinder Hunter
The Normal Pathfinder Hunter is a highly mobile low damage Advent enemy that will attempt to debuff your soldiers from far away with their high acurracy rifles.
Advanced Pathfinder
The Advanced Pathfinder Hunter has increased mobility due to their ultralight vests.
Elite Pathfinder
Elite Pathfinders Hunters carry proximity stun mines to disable your soldiers and make them easy pickings.
Exalted Pathfinder
Exalted Pathfinders carry powerful plasma weapons that allow them to deal much higher damage than their inferior variants, they also carry Terror Rounds which will allow them to panic your soldiers with their attacks.
KNOWN ISSUES:
None at the moment.
COMPATIBILITY:
Usually i say "it should be compatible with everything", but then it turns out it isn't, so if you find any compatibility issues let me know.
TO DO LIST:
Updated Advent Pathfinder pack which will include all the standalone mods in it, with the exception of the cosmetics.
FAQ:
Changes from the vanilla version?
The 4th tier of Advent are no longer "Chosen", i liked Chosen better but now that WoTC is out it would get pretty confusing when people just say "The Chosen", so now they are called "Exalted"
PERMISSIONS:
You are free to use anything and everything in this mod for your own mods and/or purposes, in fact not only are you allowed, i encourage you to do it.
PATREON:
If you wish to keep up with early previews, updates or simply wish to support me in someway i have set up a Patreon.
Thanks, and hope you enjoy.