Synthoids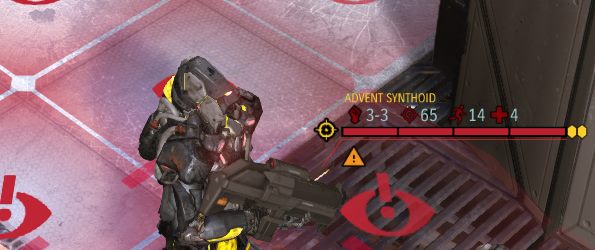 Description:
You used them as EWRs, but surely you didn't think only XCOM could make use of those designs?
Details
ADVENT Synthoids start appearing around Force Level 4. They upgrade to Advanced Synthoids aroudn Force Level 11, and Elite Synthoids start appearing around Force Level 17.
Their capabilities per tier are:
Starting – robotic Troopers that can jump up roofs, essentially. Not too big of a threat, but they do have armour that will be annoying to deal with depending on your squad loadout.
Advanced – Synthoids now come equipped with Synthetic Reflexes, their version of Lightning Reflexes. They can afford to be more aggressive. Armour is now three pips.
Elite – Synthoids at this tier come with upgraded jetpacks, letting them Launch to any parts of the battlefield as long as they have clearance. Armour is also now four pips.
They will launch upon being revealed.
The reward for successfully autopsying Synthois is +2 shield points to all vest items. Works as a permanent passive.
Known Issues
None so far.