RPGO Specialization Pack – Biotics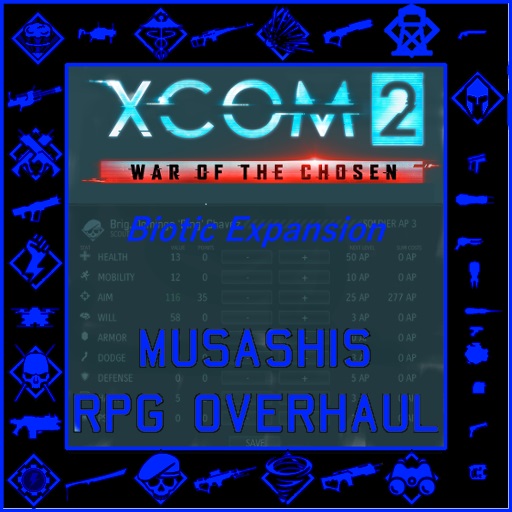 Description:
This mod adds new specializations for Musashi's amazing RPGO mod. They are made using the biotics redux mod, and as such requires it. The biotic class is automatically disabled. This pack will be frequently updated.
New promotion screen by default is not needed!
Specializations added:
*Adept – the adept is a ranged attacker, using warp, reave, and other skills to tear apart foes.
*Vanguard – the vanguard is a cqc attacker, using charge to get in close and take out foes.
*Tactician – the tactician gains bonuses to their skills, including mobility and survivor.
For more info, go to the Biotics Redux page itself.
RPGO changes:
*You can equip biotic amps. However, you can only do this with the tier 2 and tier 3 amps. I don't know how the skills will work without it equipped, but things like Warp Shot should work.
*In order to equip it, you need the biotic barrierperk. In order to gain this perk, you need the biotic strength perk. Both are availible at Squaddie.
Future Plans (different mods):
*Rising Tide mutli-line specializations.
*Architect and other single class specializations.
*SPARK specialization system
Want to support me? Buy me a coffee – https://ko-fi.com/Y8Y5A5C4 or check out my other stuff –
https://www.patreon.com/greatestkracken. I'll be keeping updates on Patreon, so check it out.