(WOTC) Three Tier Cosmetic Weapons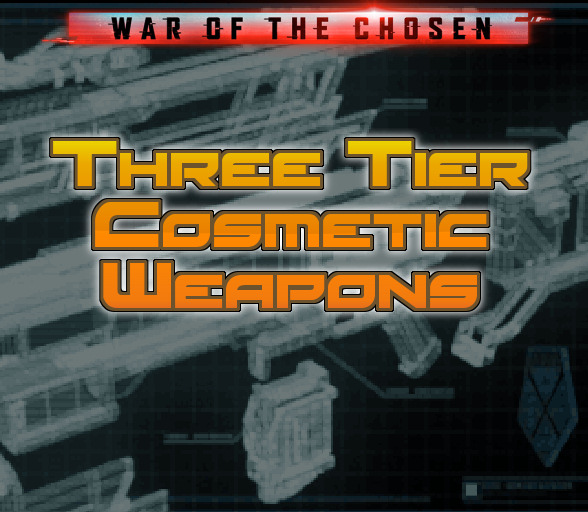 Author:
PZ
Last revision:
10 Oct at 20:30 2018 UTC
Description:
Adds cosmetic versions of the standard weapons at all three tiers, so that you can have a tier 1 beam rifle, or a tier 2 conventional pistol, or a tier 3 conventional sniper rifle, or whatever else you want. The mod also includes support for cosmetic versions of the Chosen weapons.
It also adds weapons at their own tiers, that will upgrade without changing look, so you can use those if that's what you want. (For example, the normal game's conventional rifle will upgrade to a mag rifle, but the tier 1 conventional rifle will upgrade to a tier 2 conventional rifle)
The new weapons should be automatically added, but if that doesn't work, try typing ForceThreeTierCosmeticUpdate at the console.
WOTC Only. For TLP weapons, use: https://steamcommunity.com/sharedfiles/filedetails/?id=1535617521
For something similar in vanilla, try this: http://steamcommunity.com/sharedfiles/filedetails/?id=648728232