Buildable Vests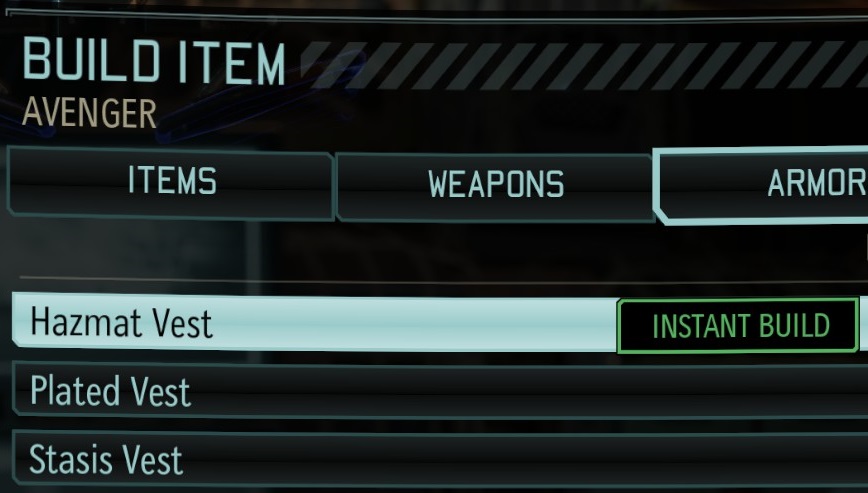 Author:
JM001
Last revision:
4 May at 04:22 2018 UTC
Description:
A simple mod that makes the vests normally found in the proving grounds buildable, the same way that they are in Long War 2. This mod actually still keeps the Experimental Armor Proving Ground project availalbe and is a pre requisite for building 2 of the 3 vests.
The mod makes it so that new proving gounds projects show up after completing experimental armor plus other requisits. Below are the requirements for each vest:
Stasis Vest: Hybrid Materials Advent Shieldbearer Autopsy Plated Vest: Hybrid Materials Muton Autopsy Hazmat Vest: Alien Biotech Hybrid Materials
Also this mod has added an alien alloy cost to the Nanoscale vest which is configurable in the DefaultStrategyTuning.ini file (in the folder <steam install folder>steamappscommonXCOM 2XCom2-WarOfTheChosenXComGameConfig).
Also this mod alters the tech path for Hellweave. It now adds a proving ground project for Hellwave that is gotten after performing the berserker autopsy. It also makes it so Hellweave now requires Berseker corpses instead of Chrysalid corpses. The Hellweave costs can be configured in the DefaultStrategyTuning.ini file as well.
The costs (alloys, supplies, amount of days for research, corpses) for the Plated, Hazmat and Stasis files in the ini files for the mod.
This mod will likely work in Vanilla as this was supposed to emulate the balance of LW2 but was compiled using the WotC SDK. Also I recommend using this in a new campaign as it addsa bunch of new tech requirements and new proving grounds projects (in fact because of this I don't think this will work on any current campaigns, at least not ones that have gotten very far from the start).
Update 4/30/2018
Removed requirement for experimental armor for vests and made the experimental armor proving grounds project hidden.
Fix to update 4/30/2018
Forgot to add the actual lines of code that create the tech templates that hide the experimental ones. Sorry for any issues this may cause to anyone.
Fix to update 5/4/2018
Removed code that modified Nanoscale costs so it will go back to default values. Moving that to another mod.
Credits
Thanks to Hotl3looded for the code that hides the experimental tech from his mod "Proving Ground Overhaul". You should check his mod out if you want everything in the proving ground to be buildable, not just vests.
Added teh mod Reward Decks Refresher as a requirement as it should help with the mod running properly on a new campaign.