Skirmisher Heavy Class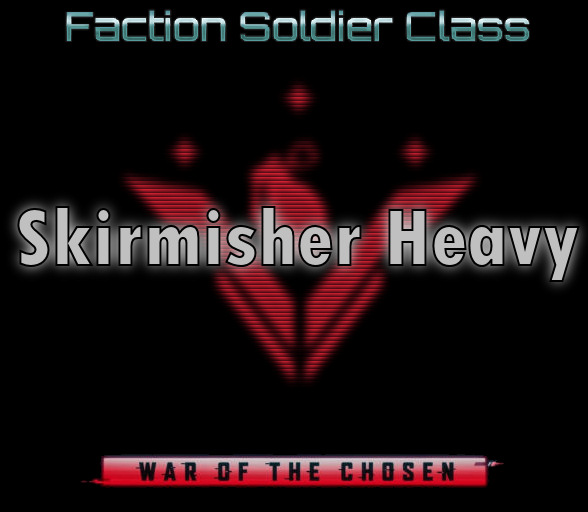 Author:
PZ
Last revision:
1 Jul at 19:53 2018 UTC
Description:
Prior to the widespread adoption of the current ADVENT MEC design, the ADVENT administration made use of humanoid grenadiers. Most of these troops were later repurposed or 'retired,' but some instead found their way into the Skirmishers. They do not really use the Ripjack, but instead have a Grenade Launcher and a potent arsenal of explosives at their disposal.
The Skirmisher Heavy class is an additional class for the Skirmishers. Newly created Skirmishers will have a random chance to be a Skirmisher Heavy instead.
Skirmisher Heavy Squaddies get Marauder, like normal Skirmishers, but they get Launch Grenade and an extra grenade item slot instead of a Ripjack.
At Corporal level, Skirmisher Heavies can choose between Heavy Ordnance or Total Combat.
At Sergeant level, they get Grapple, Return Fire or Barrage, which can be activated to get a bonus action to launch a grenade.
At Lieutenant level, they get Demolition, Biggest Booms (which is the same as the Grenadier GTS perk) or Tactical Rigging.
At Captain level, they get Volatile Mix or Interrupt.
At Major level, they get Combat Presence or Extra Heavy Ordnance, which grants a third grenade from whatever is in the grenade-only slot.
And at Colonel level, they get Battlelord or Blaster Strike, which creates a blaster bomb explosion anywhere within range.
Make sure you have the Multiple Faction Soldier Classes mod installed, or Skirmisher Heavies won't show up!
WOTC Only.