Rick and Morty Voicepack – Legacy or WOTC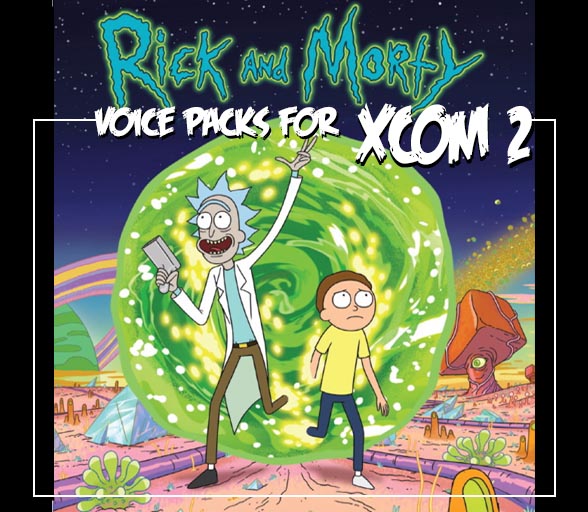 Description:
These guys don't need any introduction, you know who they are. Wubbalubbadubdub! This mod adds Rick Sanchez and Morty Smith to your list of in-game soldier voices. It will work on Legacy AND WOTC but won't work on faction soldiers.
Like Shodan v2.0, this one's been kicking round my hard drive for a while, unreleased because there was already a Rick & Morty pack on Steam by NinjaDuckie. But he had Rick AND Morty speaking on the same character, and because he doesn't want to update for season 3, and because my version has a ton more cues on it, I've decided to go ahead and release my version.
It includes cues from all three seasons, and the DOTA 2 Announcer pack.
Morty has 246 cues and the most annoying whiney voice in the wooooorrrrrld.
Rick has many more at a whopping 610 cues.
Radio Filter has been applied to both, and sound files were reduced to mono to keep the .upk file size down.
I've tried to avoid characters names where possible, but these guys say each other's names all the time, ALL THE TIME, and most of the time if you truncate the name out of the sound file, it sounds like dog's balls. So I've left a lot of them in. My advice is to use a soldier customization mod, and as soon as you've done Gatecrasher, get into the Armory and change two of your soldiers to Rick Sanchez and Morty Smith. Send them into the field all the time, bond them if you like. That way, when they talk to each other, they're just talking to each other.
Rick and Morty are both voiced by Justin Roiland.
******Updated 8/5/18: Forgot to add delay nodes to Morty's 'Out of Ammo" and 'Loot Spotted' cues, to reduce thelikelihood of them playing the same time as a 'Kill' cue. Updated ini and int files to avoid a conflict with Emmote's Mordin Solus voice pack (Thanks Galliar!)