Reach Redux: Army Troopers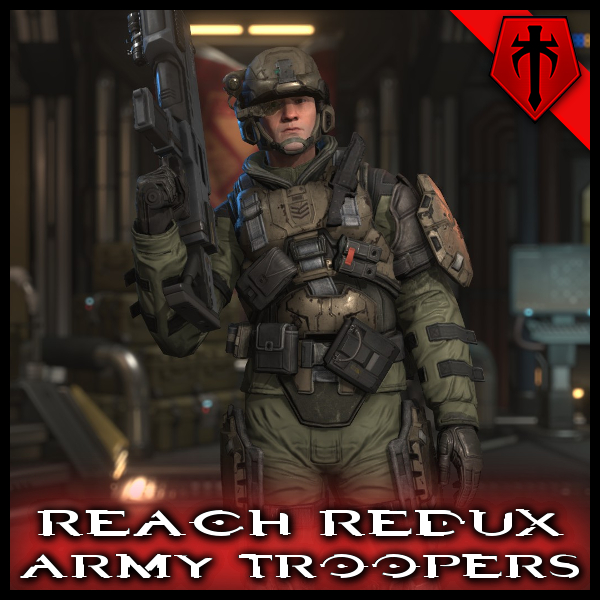 Description:
"It didn't take long for Reach to fall. Our enemy was ruthless. Efficient. But they weren't nearly fast enough.
"For you had already passed the torch. And because of you, we found Halo, unlocked its secrets, shattered our enemy's resolve. Our victory – your victory – was so close… I wish you could have lived to see it.
"But you belong to Reach. Your body, your armor – all burned and turned to glass. Everything… except your courage. That, you gave to us. And with it, we can rebuild."

Reach Redux: Army Troopers is a mod that aims to add every army trooper model from Halo: Reach as a cosmetic option in XCOM 2.
Features:
Fifteen upper / lower face props
Eighteen helmet options
Four torso options
Four arm options
Fourteen shoulder options
Four leg options
Six thigh options
Five deco options
Add Part Names integration
Known Issues:
Gaps may occur when used with vanilla assets
Addons:
Recommended Mods:
Mod Directory:
…steamappsworkshopcontent2685001383120905
Permissions:
People are free to use as they see fit parts of the mod that I have worked on, I only ask that proper credit be given.
Firaxis:
For creating XCOM 2 and WOTC and each game's respective SDKs.
Bungie, Saber Interactive, Microsoft, and 343i:
For creating Halo: Reach and Halo: Combat Evolved Anniversary.
Condensed Turtle Flesh:
For texture editing, screenshots, page graphics, and converting the original meshes into a Blender friendly format.
.vhs:
For the preview image assets.
Spart117MC:
For rigging and additional texture editing.