Warhammer 40k Guardsmen Armour Mod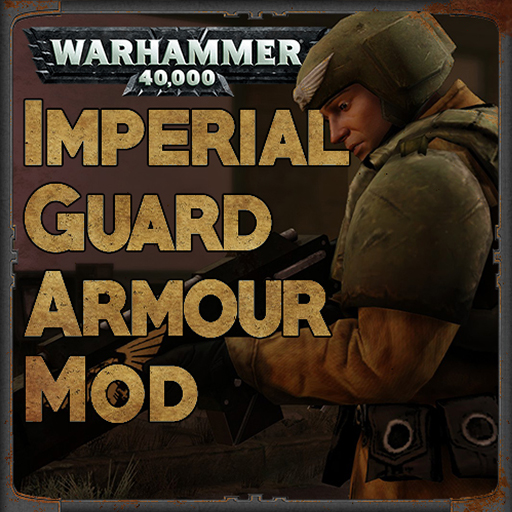 Description:
Title: Warhammer 40k Guardsmen Armour Mod
You are now able to purge Xenos filth as the Imperial Guard! This Warhammer 40k mod features armor from the Cadian Regiment of the Imperial Guard.
There are Male variants for body, legs, arms, and helmet. Along with female styled armour for head, chest, legs, and arms.
Video showcasing the mod a bit: https://www.youtube.com/watch?v=ESRGXHU-rHA
The assets used here orignated from Warhammer 40,000: Space Marine, All assets belongs to Relic and Warhammer 40,000 is rightfuly owned by Games Workshop. The assets here are for non-commerical uses and Im not earning anything from this mod.
Helm lights , targeting sistems and combead where made by NinjaNubs from his Cadians SFM models.
Question 1: Will you make other imperial guard regiments? Like Krieg?
Answer: Probably not. We may in the future but I wouldn't count on it.
Question 2: Can you change the color of the armour?
Answer: Yes you can change the color.
Question 3: Can I use your mod in my mod?
Answer: Send me an email here: [email protected]
Question 4: What version for Xcom 2 does this work for?
Answer: Should work for legacy, Long war, and WOTC. If it doesn't please leave us a message below.
Question 5: Where did you get the las gun and other stuff in the screenshots?
Answer: These amazing modders here did:
Lasgun: https://steamcommunity.com/sharedfiles/filedetails/?id=1237846886&searchtext=lasgun
Bolter: https://steamcommunity.com/sharedfiles/filedetails/?id=948359116&searchtext=lasgun
Guardsmen Mask & Comissar hat: https://steamcommunity.com/sharedfiles/filedetails/?id=1125863432&searchtext=lasgun
Guardsmen Class: https://steamcommunity.com/sharedfiles/filedetails/?id=1119526947&searchtext=lasgun
Warhammer 40k Collection: https://steamcommunity.com/sharedfiles/filedetails/?id=971281210
Social Media and Hype Man: ZoranTheBear
Guy who did 95% of the work: IronGroinPie/Blackbladder
Model extracter, porter, and overall massive help in getting this mod working.: Plague Nexus