[RPGO] The Valkyrie Specialization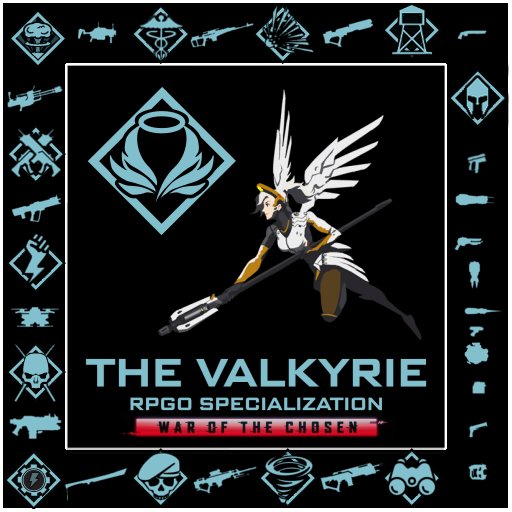 Author:
LaWu103
Last revision:
16 Jun at 17:36 2018 UTC
Description:
Updated June 16 2018; please see the discussions tab on the original mod page if your save file uses an older version!
An RPG Overhaul plugin for my Valkyrie class mod, adding three new specialties for your troops to choose from:
Guardians, who can heal without using a medikit and instantly stabilize and revive allies.
Battle Angels, who enhance the lethality of almost any attack XCOM soldiers can perform.
Valkyries, who continuously evolve their namesake ability for huge personal bonuses in combat.
If you don't know what RPGO is, you probably just want the original mod, available here.
Don't forget to disable New Promotion Screen by Default before starting your game! If you're adding this specialization mid-game, please see the discussions tab on the original mod page for instructions on how to regenerate your soldier's ability tree.
Detailed ability descriptions are also available at the original mod page. The following are RPGO-specific changes/mentions:
Healing Stream, Damage Buff, and Incision all require the GREMLIN to use.
Healing Stream is mutually exclusive with Medical Protocol.
Valkyrie and Guardian Angel are both mutually exclusive with Run and Gun.
Everything in the Valkyrie specialization requires the basic Valkyrie ability as a prerequisite, though they can be unlocked in any order.
Anesthetic requires Healing Stream as a prerequisite.
Swift Response and Surprising Amounts have been removed; the former is very similar to Lightning Hands and the latter is very similar to Lethal. Incision and Uninhibited, compared to the original mod, have been moved down a rank to compensate for this.
This mod will be updated as needed based off any changes I make to the original. If there are any issues, please let me know and I will try to resolve them as soon as possible.
Have fun!