[WOTC] More Base Utility Slots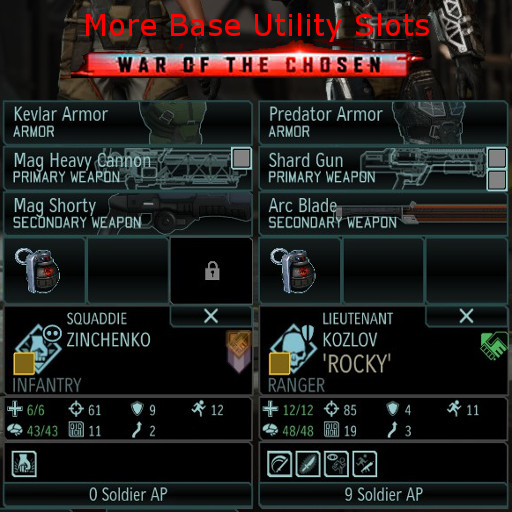 Description:
Increases the base number of utility items a soldier can carry from 1 to 2. Does not affect bonus slots given by armor. Works with faction soldiers.
Changes can be configured in Config/XComGameData_CharacterStats.ini
Does not require highlander. Works mid-campaign.
I recommend pairing this mod with following mods:
Note: if you do not have highlander and activate this mod mid-campaign you will need to swap armor for the number of slots to update. If you do have the highlander, the number of slots will refresh when you open the armory. The update is done per-soldier regardless of how.
Compatibility: this mod is only an ini edit – should be compatible with everything
The screenshot features other mods which are not required for this one to function:
Credits: -bg- and Got It Here for inspiration
License: This is only an ini edit packaged as a mod. Everybody is permitted to do anything they please with contents of this mod