[WOTC] Extended Personnel Info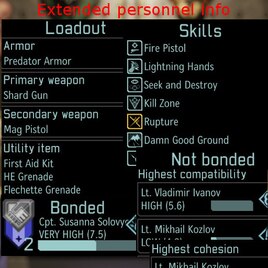 Description:
This mod adds useful info such as soldier bond details, skills and loadout to personnel screens. This gives the following benefits:
Quick access to bond details such as level, progress and bond mate class when bonded (otherwise 2 clicks are needed + 2 to go back to armory)
Quick access to best candidates (sorted either by progress or by compatibility) when not bonded (otherwise 2-4 clicks are needed + 2 to go back to armory)
Show portrait in case you don't remember names but remember the looks
Shows current equipment
Shows skills with names, not only icons. Particularly useful when preparing for a specific mission especially with class mods such as RPGO or ABB (that uses perk roulette)
The best is that this info is available at all times, even when you cannot go into the soldier screen (for example when the soldier is deployed on covert op or when you are selecting people for mission/covert op)
This mod currently depends on highlander to expand its compatibility with other mods, please comment if you would like to see a non-highlander version (so I know that it's worth to spend the time).
The BETA means that the looks or some functionality might change to accommodate other mods out there. Also, if you got graphical skills and would like to help improve the looks, please get in touch 🙂
I highly suggest pairing this mod with
Screenshots also include following mods which aren't required for this one to work (+ the recommended ones above):
Compatibility with other mods: should be no conflicts.
Can be enabled and disabled freely at any time.
Config: none currently.
Thanks:
robojumper for teaching me the dark arts of X2 UI
Musashi and Chris the Thin Mint for ideas for this mod
License: MIT. The project is hosted on GitHub: https://github.com/Xymanek/ExtendedPersonnelInfo