Imperial Surplus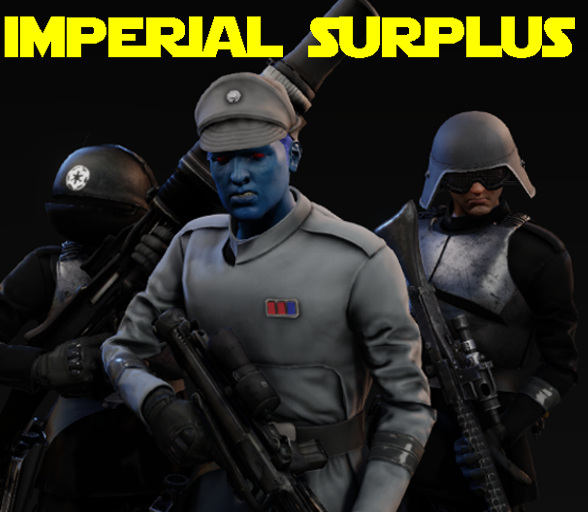 Author:
roland3710
Last revision:
20 Sep at 01:07 2018 UTC
Description:
DESCRIPTION
This mod adds player-usable versions of assets from the Advent to Empire Conversion that cannot be found elsewhere.
CREDITS
I made none of these meshes myself. CondensedTurtleFlesh generously allowed me to use his Clone Officer and Clone Agent meshes (which played the roles of Imperial Officer and Imperial Army Trooper uniforms) while Cavily and DimDim volunteered their time to provide the blasters and headgear.
BLASTERS
These blasters use vanilla weapon stats. Upgraded variants will be available via the same research routes as their vanilla versions. The blasters are not tintable.
E-11 Blaster Rifle (uses assault rifle stats)
T-21 Light Repeating Blaster (uses cannon stats)
DLT-20 Blaster Rifle (uses sniper rifle stats)
OUTFITS
These outfits are split into arms, torso and legs (as you might expect). They only come in male variants (sorry, ladies).
Imperial Officer
Imperial Field Officer
Imperial Trooper
HEADGEAR
All headgear pieces except for the Imperial Engineer Helmet are tintable and all of them come with male and female variants.
Imperial Officer Cap
Imperial Army Trooper Helmet (variants are included with and without the goggles on top)
Imperial Navy Trooper Helmet
Imperial Engineer Helmet
Additional assets from the Advent to Empire Conversion may be included later on.
DISCLAIMER
Star Wars is rightfully owned by Disney. The assets here are for non-commercial uses. No payment or donations will be accepted.