The Madness Voice Pack ver 1.2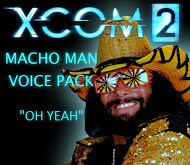 Description:
Macho Man Randy Savage Voice Pack!!!
Feel free to post on any issues found. I am aware some of the audio needs to be rebalanced, For the time being, I raised the volume across the board. Currently X-Com 2 is bringing me all sorts of problems running and Characters not speaking in game is one of them..
Thanks to everyone who has provided me with feedback.
Preview Video coming soon.
Big Thanks to Zuff for the tutorial video posted here: https://www.youtube.com/watch?v=AZQrnjRQId0