Alien Swarm Marines Voice Pack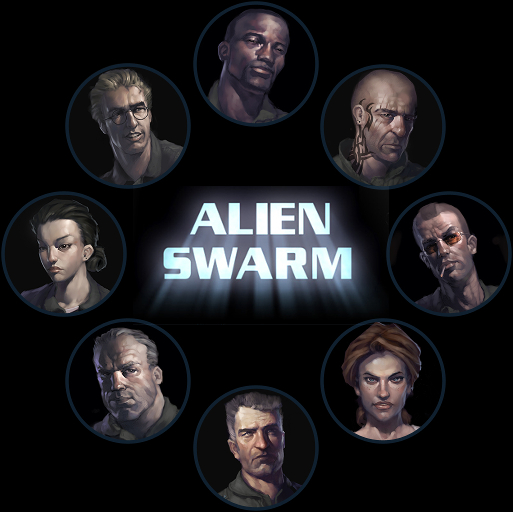 Author:
Arcalane
Last revision:
7 May at 04:34 2017 UTC
Description:
Adds the eight-man team of Alien Swarm's Source-Engine remake to XCOM2!
Contains six male voices (Bastille, Crash, Jaeger, Sarge, Vegas, Wolfe) and two female voices (Faith, Wildcat), with around 130-140 lines each. Most key actions are covered. Includes radio effects. Contains a small amount of mature language. They do not refer to themselves or each other by name, though they do occasionally refer to each other as marines. Voiceacting is largely in English, though Bastille is french-accented and occasionally speaks French, Vegas is mexican-accented and occasionally speaks Spanish, and Jaeger is german-accented and occasionally speaks German.
Jaeger, Sarge, Wolfe, and Wildcat are well-suited to heavy weapons roles (Gunner, Grenadier, etc.) whilst Bastille and Faith are ideal for medical Specialists. Crash and Vegas are best suited for hacking Specialists.
Includes three character pools;
ASW Team – Vanilla: uses vanilla customization and classes only.
ASW Team – LW2: uses vanilla customization and Long War 2 classes.
ASW Team – Custom, LW2: uses USCM Camo, GrimStyleArmor, Long War 2 classes, and Musashi's LW2 Gunslinger (for Vegas)
Recommended Mods:
Long War 2 or Long War Perk Pack for all Marines
shiremct's Field Medic for Bastille and Faith
Rumrunner's Heal Grenades
Credits;
* Hidden Wolfe – Sarge
* Black Cat Games – Jaeger
* Lizanneh – Wildcat
* Teemu Salmela – Wolfe
* Alex Wentz – Faith
* Wilhelm Queyras – Bastille
* Black Cat Games – Crash
* Luis Guillermo Álvarez Félix – Vegas
And, of course, Black Cat Games for making one of my long-time favourite games — plus the BCG Community for putting up with my ♥♥♥♥♥♥♥t when I was younger and more impulsive.
To all IAF marines, past, present, and future- good hunting. And remember; always pack a flamer.