[WOTC] Spinning Barrels for TLP Magnetic Cannon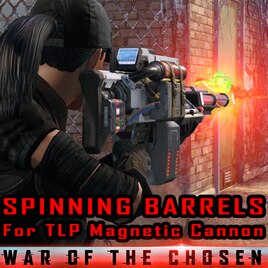 Author:
Iridar
Last revision:
7 Jan at 08:22 UTC
Description:
FEATURES
This simple mod makes Tactical Legacy Pack's Magnetic Cannon's barrels spin while firing and suppressing.
I would moan about me having to do Firaxis' job for them, but hell I got TLP for free so I ain't complaining. Enjoy.
COMPATIBILITY
The mod is now compatible with Veehementia's [WOTC] Cannon Redux Animations for TLP Cannons and [WOTC] Vanilla Cannon Animations For TLP Cannons, but you need to change something in the config.
Locate this config file and follow the instructions.
..steamappsworkshopcontent2685001616467517ConfigXComCannon.ini
CREDITS
If you enjoy my mods, please consider supporting me on patreon[www.patreon.com].